MEIA News and Announcements
Welcome MEIA's New Executive Director Jack Winram!
MEIA is very excited to announce our new Executive Director, Jack Winram! Jack has a wealth of experience with a background in energy and environmental economics, coupled with many years working in the cleantech and energy sector. Jack's first day at MEIA was January 20th. He looks forward to meeting our members, collaborators and stakeholder organizations in the coming months.
And we would like to extend our sincere thanks to Mike Fernandes for his commitment as Interim Executive Director to MEIA for the past year and a half. 2019 was a transition year for MEIA that included a full new roster of staff, an expanded mandate, moving to a new location, and building a brand new website, all while fulfilling our regular fantastic programming to our members. What a whirlwind! And we couldn't have done it without Mike's leadership, expertise, and dedication. Thank you for everything Mike!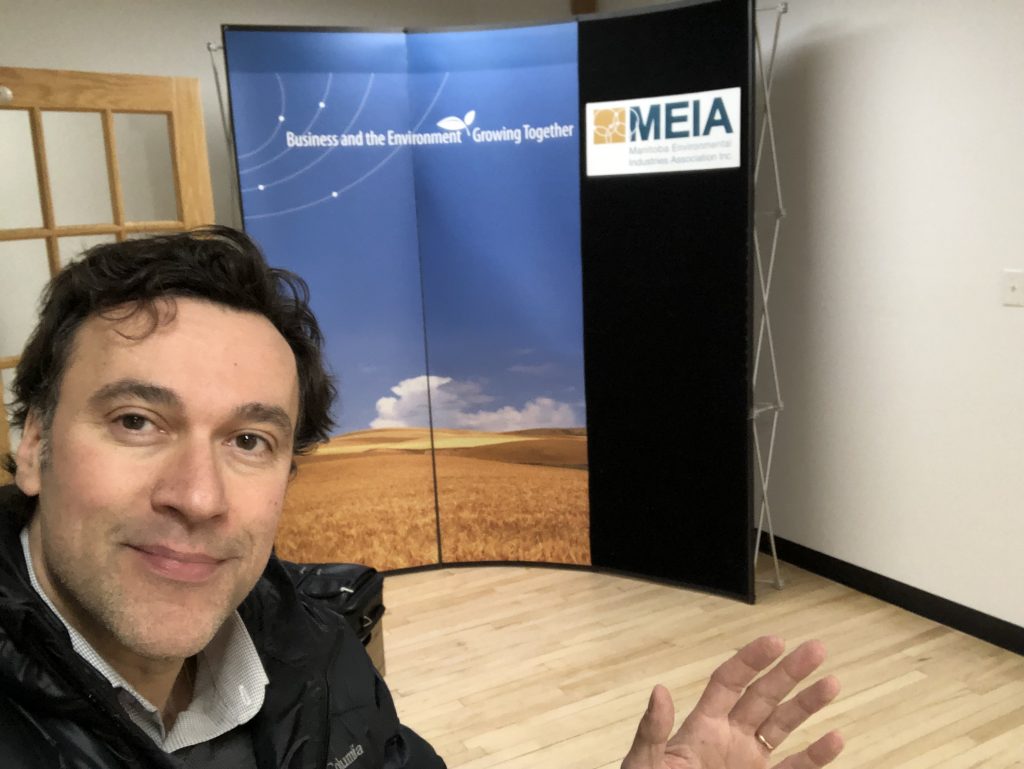 MEIA Student Chapter Discovery Night
Thank you to all the students, mentors, and presenters who braved the cold to join us at MEIA's Student Chapter Discovery Night at the University of Manitoba on January 23rd. We had 31 students in attendance this year, learning from and networking with professionals in the environmental sector.
The roundtable discussion and networking period involved all 21 of the attending mentors, where students could get feedback on their resumes, ask interview and career path questions, and practice their elevator pitch. Thank you to everyone who attended for making this evening such a success!
---
Upcoming MEIA Training & Events
CME's Lean & Green 101 Workshop
February 25, 2020
8:30 AM – 4:30 PM
CME Office, 67B Scurfield Blvd., Winnipeg
Regular price: $295
MEIA Member Price: $95
MEIA is offering a special discount to our members who would like to attend CME's Lean & Green 101 Workshop. Register through MEIA (call us! 204-783-7090. Or email [email protected]) to attend for the low price of $95!
This workshop will provide a practical overview, real-world success stories and the hands-on tools needed to apply Lean thinking to include overlooked environmental waste, including the seven key environmental wastes that represent potential for significant savings. Take Lean to the next level, with this Lean and Green 101 workshop. Click here for more information.
Climate Smart – Workshop #3
Thursday, February 20th, 2020
MEIA Training Room, 310-112 Market Avenue
The Climate Smart program helps businesses to profitably reduce carbon emissions and the costs associated with energy, fuel and waste. Through small-group training sessions, expert one-on-one coaching, and customized reporting, businesses are set up to future-proof their operations. The second workshop is on Thursday, February 20th.
Interested in learning more about Climate Smart and/or signing up for consideration to next round of workshops tentatively planned for fall/winter 2020? Call MEIA at (204) 783-7090.
MEIA Student Chapter Speed Mentoring
Thursday, February 27th, 2020
7:00pm-9:00pm
MEIA Training Room, 310-112 Market Avenue
Students: $15 | MEIA Student Chapter Members: FREE

Students are paired with mentors for a series of brief interviews allowing students to ask for advice on improving their resume, valuable courses for their field of study, and tips for finding a job. Meet industry professionals in a relaxed environment. You never know who you might meet that can help you get a leg up in the industry!

RSVP and direct questions to [email protected]
First Aid Training
One and Two Day Courses available!
EFA-C and AED – One-day Course: $55 for MEIA Members
SFA-C & AED – Two-day Course: $90 for MEIA Members
Contact the MEIA at (204) 783-7090 to register or email [email protected]
---
Member News and Announcements
Pinchin Ltd. Upcoming Training
Introduction to Radon
February 11th, 2020
8:30am – 10:30am
Pinchin Office, 54 Terracon Place
FREE

Did you know that radon is the leading cause of lung cancer for non-smokers? Health Canada states that approximately 3,200 Canadians die each year as a result of radon induced lung cancer.
This seminar is designed to educate you about radon, including the health effects, the misconceptions, what is involved in the measurement and mitigation of radon and why all buildings must be tested.
Click here for more information and to register.
Manitoba Confined Space Regulation Update
February 18th, 2020
8:30 – 10:00am
Norwood Hotel, 112 Marion St, Winnipeg
FREE
Manitoba Workplace Safety & Health has made amendments to the Confined Space Regulations, but unfortunately most professionals are still unaware of the changes and how they might affect their business. The regulation now establishes General Requirements for ALL Confined Spaces, and then sets out additional requirements that are to be followed for Hazardous Confined Spaces. Join this workshop to learn:
The new definition for a Hazardous Confined Space
Top 10 General Requirements for ALL Confined Spaces
Top 10 Additional Requirements for Hazardous Confined Spaces
Click here for more information and to register.
World Trade Centre Seminars
Dates: Throughout February 2020
Venue: 219 Provencher Boulevard, 2nd Floor
Fee: FREE!
For more information or to register, click here.
An Overview of Employment Standards – Feb 5 @ 9:30am-11:30am
Takin' It to the Streets: Safe Food, Good Eats – Feb 6 @ 9:30am-11:30am
French Toast – Feb 7 @ 7:30am-8:45am
Globe 2020 – Feb 10-Feb 13
Incoterms® 2020 Training – Feb 12 @ 8:30am-4:00pm
Tax Tips for Startup Businesses – Feb 19 @ 9:30am-11:30am
Grow Your Sales: Sell With a System – Feb 20 @ 9:30am-11:30am
French Toast – Feb 21 @ 7:30am-8:45am
Import/Export Shipping Hurdles – Feb 27 @ 9:30am-11:30am
---
Other News and Events
EcoAction Now Accepting Applications for Funding
Environment and Climate Change Canada's (ECCC) EcoAction Community Funding Program is now accepting applications for funding until March 3, 2020 at 11:59 p.m. EST for projects beginning summer 2020.
Funding is available for new projects that engage Canadians and clearly demonstrate measurable, positive results related to the key environmental priority: Freshwater.

Your project must link to one of the related Priority Results:1. Canadians contribute to the improvement of water quality through the diversion and reduction of harmful substances in Freshwater;
OR
2. Canadians contribute to the improvement of Fresh Water management and increase climate resilience through action involving the development and/or restoration of natural infrastructure.
Preference will be given to proposals that engage Indigenous Peoples, youth or small businesses. All proposals must fully meet program requirements.

Click here for more information
Manitoba Women in Trades Conference
February 18-19th, 2020 (7:30am-4:00pm)
Victoria Inn Hotel & Conference Centre in Winnipeg, MB.

The Manitoba Women in Trades Conference is geared toward women who need support, guidance, and connections to make their construction career a success, as well as to employers, superintendents, project managers and estimators to identify ways to recruit, retain and support women in trades. Registration is now open.

Click here for more information
People Power: The Intersection Between Occupants and Their Buildings
February 20, 2020 | 2:00 pm – 7:00 pm
University of Winnipeg 599 Portage Ave,
People are the power behind sustainable buildings. Join Sustainable Manitoba for an afternoon of learning to be inspired by 3 unique presentations on the topic of how buildings influence people and the role people play in creating and operating sustainable buildings.
After the presentations, join us for a social mixer to continue the conversations.

Click here for more information or to register
Hire Co-Op Students
Whether you are a small start-up or a multinational company, get immediate access to a growing community of talented students seeking professional positions with progressive employers.
Brandon University can offer a flexible and cost-effective way to hire new employees, giving you an opportunity to gain short-term help on specific projects and effectively conduct a four-month interview with a potential job candidate.
And when you hire a co-op student, you may qualify for tax incentives and financial awards.
Red River College (RRC) co-op students are available to work during the 2020 Co-op Work Placement as follows:
Civil Engineering Technology: May 4 – October 23
Architectural Technology: May 4 – August 21
Construction Management: May 4 – October 16
To hire Red River College Co-op students, contact RRC at (204) 632-2585, [email protected]; or post the job opportunity directly to their job board: jobcentral.rrc.ca.
Canada Summer Jobs Program is Now Accepting Applications
The call for applications is open to February 24, 2020.
Canada Summer Jobs is an initiative of the Youth Employment and Skills Strategy, which aims to provide flexible and holistic services to support all young Canadians develop the skills and gain paid work experience to successfully transition in the labour market.
Click here for more information and to apply.
Manitoba Water & Wastewater Association Conference
February 23rd – February 26
Keystone Centre – 1125 18th Street, Brandon, MB
The MWWA is dedicated to protection of Public Health, Environmental Stewardship, Sustainability and the advancement of the water and wastewater profession through advocacy, education and training in the Province of Manitoba. Registration is now open for their three-day annual conference and trade show in Brandon, Manitoba.
---
MEIA programming is supported by funding provided by The Government of Canada and The Manitoba government.