October 4, 2023 - October 5, 2023




9:00 am - 4:00 pm
Location: Neeginan Centre, 181 Higgins Ave.
Free parking available
Indigenous Economic Engagement training is an important part of conducting business with Indigenous groups. Participants can expect to gain a deeper understanding of how to engage with Indigenous Peoples and enhance business relationships in these core areas: communication, decision making, business etiquette and economic reconciliation.
Today, more individuals and corporate leaders are seeing the benefits of receiving this type of training as they are better equipped to behave in a way that promotes trust and business relationships where everybody wins.
Learning Objectives:
Why is Indigenous Economic Engagement training important?
How are Indigenous People viewed to the general public?

Break down the Myths.
Indigenous People – History and its Impacts

Understand Treaties and Territories

The Treaty Making Process
Numbered treaties

Understand Traditional vs Contemporary forms of Government.

Indigenous vs Western World Views
Levels of Government
Impacts on Decision Making.

Understand Community and Cultural Protocols

Community Values- Spiritual Connection to Land.
Family and Kinship ties

How to engage with Indigenous People.

Understand the socio-economic conditions.
Recognize cultural differences.

Nation to Nation Relationship

What does partnership mean? What does it look like?
A Shared Vision: Everyone Wins!
Instructor: Mrs. Miranda Kennedy – B. Comm (Hons), VP of HR Solutions, Okimaw.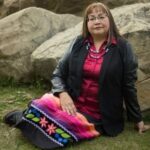 Mrs. Kennedy is a Human Resource professional that hails from the Little Pine First Nation in Saskatchewan. Miranda Kennedy is a results driven, HR focused professional with a strong understanding of an organization's priorities and challenges. She believes in people and their potential; and encourages others to develop personally and professionally in their careers to change businesses and even Nations.